5 Male Celebs Lori Harvey Has Dated
What happens in the lives of their favorite celebrities is interesting for the entire world. Why? There is no specific answer. Although they might be just ordinary people like us, something is satisfying and mind-relaxing when you follow their lives. A particularly interesting aspect of this whole celebrity thing is the love life and partners they choose. One of the celebrities that has a growing list of dating celebs is Lori Harvey.
Those who don't know her, let us make a quick introduction. Harvey is the adopted daughter of Steve Harvey, the famous comedian, who comes as a kid of her mother's Marjorie third marriage. She is also a model, having signed with LA Models and Select Model Management in Europe. Her modeling skills have been seen on the runways for Dolce & Gabbana during Paris and Milan fashion week. She has also done many ad campaigns for the same brand. Before modeling, she loved riding horses and that was her hobby. However, after suffering an accident during a competition in 2015, she gave that up and switched to modeling.
What is particularly interesting about her is her love life, dating history and relationships that have gotten her in an interesting crowd. She even ended up the court, pleading not guilty for certain charges.
So, first things first, here is a list of all the celebrity men that Lori Harvey has dated so far!
Memphis Depay
Back in 2018, Lori Harvey was engaged to Dutch football player Memphis Depay. The engagement happened in June 2017, after 6 months of dating, but it did not last long. Before getting engaged, they were dating for about 1 year. The rumors that circulated stated that they got separated and annulled their engagement later in the same year. This was confirmed in 2018 when the paparazzi caught Harvey without her engagement ring on the hand.
Justin Combs
After the broken engagement with Depay, the next of Harvey's dating list was Justin Combs. Or at least, the world thought so. The first rumors of those two dating began in February 2018. At the time, neither of these two did confirm nor deny the relationship, but what came a bit later in the years got people thinking that this was just some media cover-up.
Trey Songz
After the unconfirmed rumors whether Harvey and Justin Combs were romantically involved or not, the next on her dating list came the rapper, Trey Songz. The official dating pictures of those two appeared when paparazzi caught them on a few dinner dates, and later, shopping together in one jewelry store. That was back in December 2018 when the alleged relationship was happening. Although they have 13 years' age difference, it did not seem to matter them both. at the time, no official confirmation was made by neither one of them, but they were spotted exchanging PDA while spending the holiday together. this relationship supposedly ended by Songz cheating up on Harvey.
Sean Diddy Combs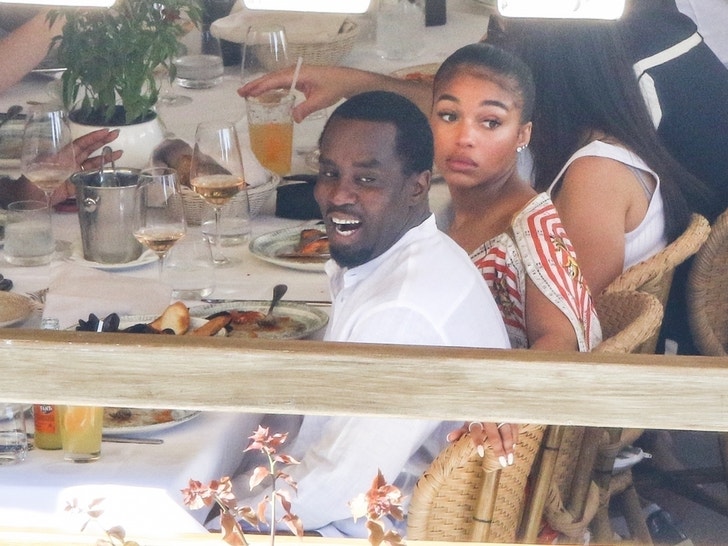 One of the more public relationships that Lori Harvey had was the one with the father of Justin Combs, the mega-famous rapper Sean Love Combs. At the time, Diddy 49 years and Harvey 22 years, started dating after sparkling a romance between the both of them. What was known was that they have been long-time family friends, just like that, they started hanging out. What sparked the rumors, even more, were Diddy's Instagram posts that included Lori on them. There was even the time when Lori appeared with a ring on the finger, suggesting that maybe the relationship has become more serious. When that was confirmed as not true, the next thing was the speculations that she was pregnant. That was not true, again, and soon after that, the relationship seemed to be over with Lori unfollowing Diddy on Instagram.
Future
To finish this list of every man Lori Harvey has dated, the last and the current one is the rapper Future. Just like everything in the modern world, if you don't post it on Instagram it is like it has not happened at all. The first rumors of these alleged relationships appeared on Future's Instagram story. After that, came photos with both of them hugging on a birthday celebration and in the pool. The latest update on the relationship between these two suggests that there might be an engagement soon. This comes as a result of her VIP treatment while being on the Bahamas for Harvey's 23rd birthday. Future is known as a playboy and their rumors suggest that he has found the right one to settle down. Sources say that Future is completely in love with Lori and he has not felt like this since the relationship and the engagement he had with the singer Ciara. That his intentions might be serious speaks the fact that he proposed to Ciara, back in the time, so this is not something new for him. Just a few days ago, Harvey and Future both pleaded not guilty in the LA County Courtroom about the criminal charges for a hit-and-run in an accident in Los Angeles.
The list of male celebs that Lori Harvey dated includes mostly rappers and football players. So, whether the relationship with Future will succeed or not, the 23 year-old model has the entire life ahead of herself and we are sure that the dating list will not stop with him. The show biz is an interesting and dynamic industry where celebrities couple up – some for love, some for media attention. Be as it is, Lori Harvey male celeb dating list is growing large for a 23 year-old.
Get The Latest Stories On Your Social Media