We all know that in Hip Hop, rappers are also fans of their rap peers even though they also see them as competition. But has Jay-Z despite the historic Takeover Vs Ether beef been too much of a fan of Nas that he's been copying him? Here are the 7 Ways Jay-Z Has Allegedly Copied Nas Throughout His Career
Copied Nas Rapping Style
Before the release of his debut album Reasonable Doubt, Jay-Z originally rapped very fast. This is why Nas says in Ether that Jay-Z bit his style. But check out how he raps here in this video below , it's very fast.
Kenya Moore
For the video of his classic song "Street Dreams", former Miss USA and model Kenya Moore was the lead girl in the video. 2 Years later in 1998, she would also be one of the lead girls in Jay-Z and Jermaine Dupri's "Money Ain't A Thing" video.
Bath Tub Video Scenes
Drawing inspiration from the classic movie "Scarface", Nas mimicked a popular scene from the movie in his video "The World Is Yours" where he sits comfortably in a huge luxurious bath tub in a bedroom. Jay-Z would later do a similar scene in the "Heartbreaker" video with Mariah Carey.
R. Kelly
In 1996, Nas called on R.Kelly to do the remix of "Street Dreams", and 5 years later Jay-Z hopped on the remix for "Fiesta" which was supposed to have Jadakiss on it, then a year later Jay-Z and R.Kelly ended up doing a collab album "Best of Both Worlds" which was exclusively produced by Trackmasters who did a lot of production for Nas. Also Nas released a song called "KISSING" off of his "I Am" album where the beat plays a sample loop of R.Kelly singing in the background all throughout the track, then in 2003 Jay-Z releases a song called "Threat" off of his infamous "The Black Album" where the song also plays a sample loop of R.Kelly singning in the background. Coincidence?
Carmen Bryan
Carmen Bryan is the ex-girlfriend of Nas and mother of his child Destiny Jones. After they split, Jay-Z did some messing around with Carmen as he mentions on the infamous "SuperUgly" Nas diss record where he tells Nas that he slept with Carmen.
Damian Jr Gong Marley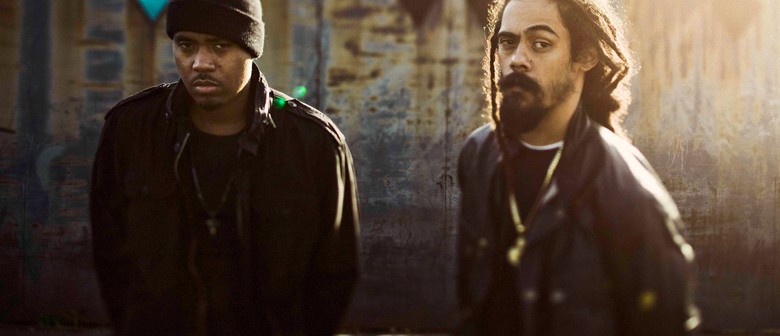 In 2006, Nas made a collab album with Reggae legend Damian Jr. Gong Marley called "Distant Relatives". Fast forward to 2017, Jay-Z called on Marley to make "BAM" on his 4:44.
Life Is Good = 4:44
In 2012, Nas released "Life is Good" an album with much different subject matter in his music, subject matter like his divorce, being a father, and apologizing to his ex-wife Kelis. He even had her wedding dress on his album cover. Fast forward to 2017, Jay-Z released "4:44", an album also with much different subject matter like admitting to cheating on his wife Beyonce, apologizing to her, and life as a father.
Get The Latest Stories On Your Social Media